CFAO Young Talent Award - Art Competition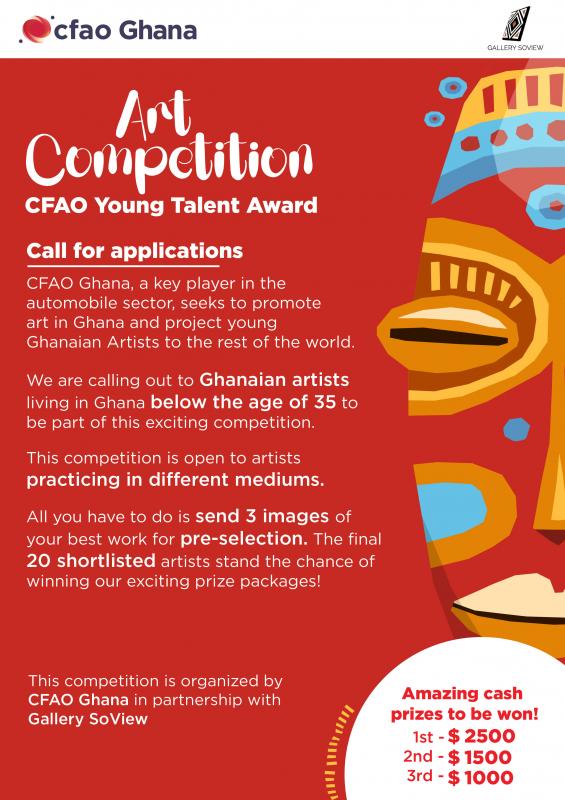 2022, March 01
CFAO Group is a key player in mobility, healthcare, consumer goods, infrastructure and energy. Its distribution network comprises over 150 subsidiaries and is the largest on the African continent. CFAO was established in Ghana in 1909 and is one of the key actors in the automotive sector.
Through this competition, CFAO Ghana aims at promoting Art in Ghana and supporting the global exposure of young Ghanaian artists.
Perhaps this competition would allow us to find another Basquiat or Picasso!
The call for applications is open to all the Ghanaian Artists below the age of 35 years, who are resident in Ghana.
Following the call for applications, twenty (20) artists who represent an overview of the new generation would be selected by a jury of professionals.
The selected twenty (20) artists would then have two (2) months to work on a piece (with a theme disclosed to them after the selection), out of which three (3) winners will be selected by a jury of professionals for First, Second and Third Prize.
The selected twenty (20) artists would have their final pieces exhibited at CFAO Ghana PLC, Airport in June 2022 and at the Accra-based contemporary art gallery, Gallery Soview.
Deadline for submissions is the 20th March 2022.
The competition is organized by CFAO Ghana in partnership with Gallery Soview
Please click here to register.
Back to the list