CFAO LAUNCHES CUSTOMER CARE POLICY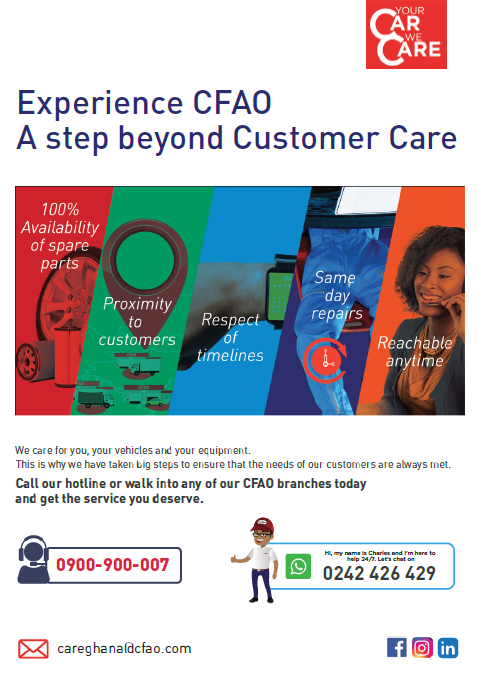 2020, October 16
Your Car, We Care
This Care Policy is our new promise to ensure your needs are entirely met as a customer. 
It is a renewed spirit of customer care that promises to better serve you, earn your loyalty and keep you satisfied, because you deserve it. 
We desire to be the leading automotive company, and that starts with being in the hearts of our customers. 
To do this, we have resolved to stand out in the way we deliver our service to you.
In this regard, we have developed a CARE Policy to ensure all your needs are taken care of from the moment you walk into CFAO and even after you leave. 
Our policy underlines our desire to be closer to you through excellent service.
The CARE Policy is captured in 5 commitments, aimed at making your experience with CFAO a better one. 
This policy applies to all our brands and services you make contact with, so you can expect a different kind of customer experience whenever you come to CFAO.
CFAO, a step beyond customer care.
1. 100% Availability of spare parts
Availability, we owe it to you. After carefully selecting the references of the most used spare parts on all the models we market, we have drawn up a list available upon request. 
CFAO commits to deliver any of the available spare parts within 2 working days in all our branches. 
Our commitment goes further. In case of our inability to comply with the availability of these spare parts, you will benefit from an order via air freight at the regular shipping price. 
Additionally, you will receive a 1% discount each working day if there is a delay. This arrangement will be available for both vehicles and equipment. 
CFAO commits to providing the best service where availability of spare parts matter. 
Furthermore, we do free delivery of your spare parts with purchases from $1000 and deliver within 20 km around our CFAO branches.
2. Proximity to customers
We know you would want to be served close to your home or at least midway, We have heard you. We commit to extend our service network to be closer to you. 
We are widening our network in Ghana with the opening of CFAO Certified Workshop across the country. 
We are also bringing you closer to us through special events like our CFAO Open house and Voice of Customer events.
3. Respect of timelines
Your time is priceless and we recognize that. 
Regardless your order, purchase or quotation request, you can hold us accountable for responding to you within the timelines communicated to you.
We commit to respect the deadlines communicated to you at the time you approve your quote or your purchase. 
Failing this, we commit to give you a compensation with CFAO vouchers in order to thank you for your patience.
4. Same day repairs
In this fast paced environment, time is money and time saving is a luxury we offer you.
In order to reduce the wait time for our valued customers, we commit to repair your car, your truck or your machine on the same day. 
This applies to a selected list of jobs available upon request from a service advisor.
Just book an appointment in advance and request our technician on site, or bring your vehicle / equipment to our workshop by 9:00 am. 
By the end of the day, you will have your vehicle / equipment in good working condition. If not, we  commit to compensate you with CFAO vouchers for your time lost.
5. Reachable anytime
Do you need information from our sales and aftersales department regardless what time of day? That should not be a problem anymore.
CFAO commits to being reachable on its hotline (0900 900 007) 7 days a week from 8:00am to 8:00pm. 
In addition, you can also join us 24/7 on our WhatsApp chat (0242 426 429) and our social media pages. 
Stay connected with us wherever you are, at whatever time.


Back to the list