CFAO GHANA UNVEILS 2021 MITSUBISHI ECLIPSE CROSS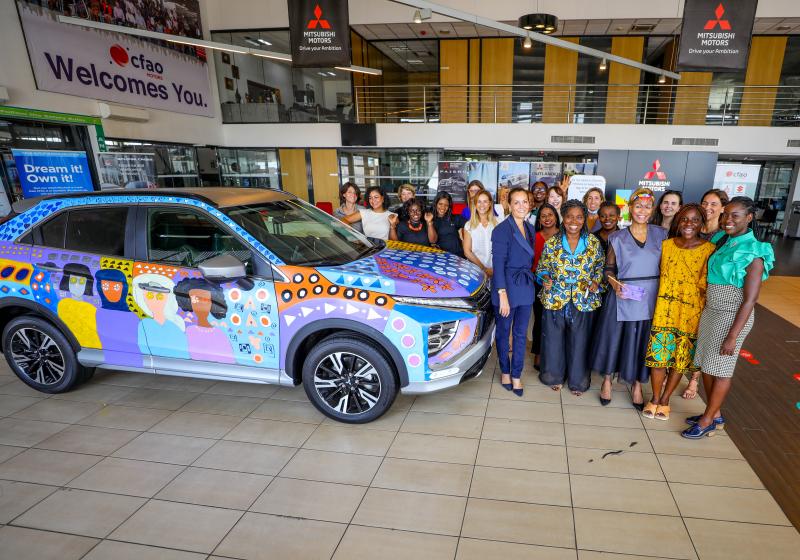 2021, June 12
CFAO Ghana unveiled the all-new 2021 Mitsubishi Eclipse Cross with a special charity and art themed event at their Accra-Airport Showroom on Saturday, the 12th of June, 2021.
The event brought together 20 women leaders from various sectors as well as Ambassadors from various countries including the French Ambassador to Ghana, H.E Anne-Sophie Avé to complete the painting of a masterpiece drawn on the all-new 2021 Mitsubishi Eclipse Cross by renowned Ghanaian artist, Sedinam Awo Tsegah.
The masterpiece on the vehicle featured four ladies with different complexions, attires and hairstyles to signify unity and inclusion. The main subjects were also set on a bright patterned background with shapes and elements enhance the tribal look of the artwork.
Photos of the artwork on the new Mitsubishi Eclipse Cross has been posted on CFAO Mitsubishi Ghana's Facebook page to generate likes and shares. CFAO plans to donate $5,000 to O Africa, a non-profit, child-welfare organization that empowers children and young adults in need of care and protection because of institutionalization, abandonment, neglect, disability or abuse to become productive members of the Ghanaian community. If the post achieves 10k likes, CFAO will increase the amount to be donated to $10,000.
Support this cause by going to the Mitsubishi Ghana page on Facebook to like and share the images of this masterpiece.
About the New Mitsubishi Eclipse Cross
The all-new 2021 Mitsubishi Eclipse Cross is an automatic transmission 1.5-litre, four-cylinder turbocharged petrol engine producing a maximum of 110kW of power and 250Nm of torque; paired with a continuously variable transmission (CVT) and all-wheel drive.
This SUV is loaded with features like a 7-inch touch screen, heads-up display, automatic climate control A/C, rearview camera, front and rear parking sensors, leather seats, LED headlights, Airbags, ABS, ESP, Bluetooth, USB, Radio CD, MP3, steering wheel audio control and 18-inch alloy wheels
The Eclipse Cross, like all the other new vehicles in CFAO's range, can be purchased through CFAO Ghana's Auto Finance offer over a period of 1 to 5 years with a 25% deposit and at a fixed interest rate of 18%.
A trade-in solution is also available should you be interested in changing your older vehicle to the all-new 2021 Mitsubishi Eclipse Cross.
Call our hotline on 0900 900 007 or WhatsApp our Chatbot on 0242 426 429 for any further information or to book a test drive.
Back to the list