CFAO Ghana and Allianz Life Insurance launch "AutoLife by CFAO"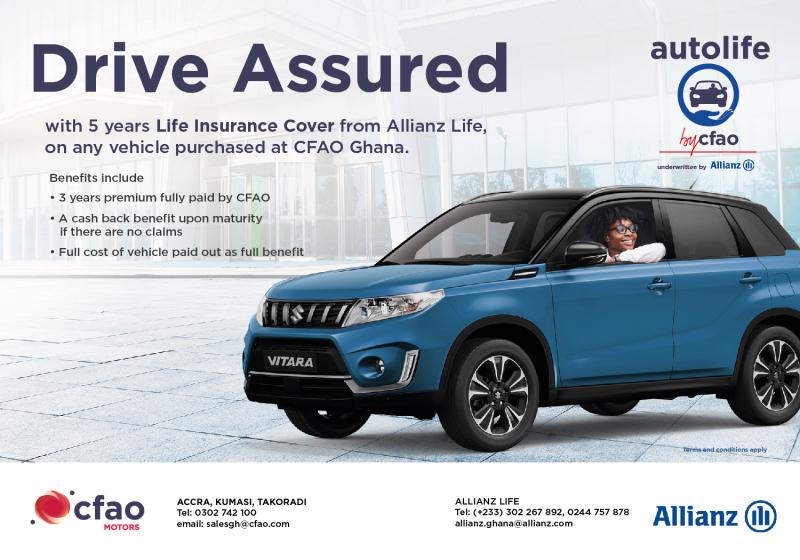 2020, March 17
CFAO Ghana, the official distributor of Mitsubishi and Suzuki vehicles in Ghana has partnered with Allianz Insurance to introduce the first ever life insurance package attached to vehicle purchase in Ghana.
The new package, called Auto Life by CFAO, is an initiative aimed at providing life insurance cover for all individuals who purchase a new Mitsubishi or Suzuki vehicle from CFAO Ghana Ltd, from the 1st of March, 2020.
CFAO clients will automatically receive a five (5) year life insurance cover from Allianz worth the total cost of the vehicle purchased. CFAO Ghana will pay the cost of premium for the first three (3) years and then the client will pay for the last two (2) years.
Additionally, if nothing happens during the full duration of the cover, the client will receive a cashback benefit upon maturity of the five year period.
According to the Managing Director of CFAO Ghana, Mr. Paulo Fernandes, the AutoLife package is one out of the many new innovative services to be offered by CFAO in the months ahead. "CFAO is entirely focused on customer satisfaction with the great ambition to respond to their needs and exceed their expectations. Our ultimate ambition is to be the number one car dealer in the heart of the Ghanaian customers" he added.
All interested in getting additional details or making a specific request can click on the information request form to the right side of the website!
Contact and information:
CFAO GHANA LTD
+233 (0)302 742 090 / +233 (0)302 742 129
infogh@cfao.com
Back to the list