CFAO Donates to MAHLEF Foundation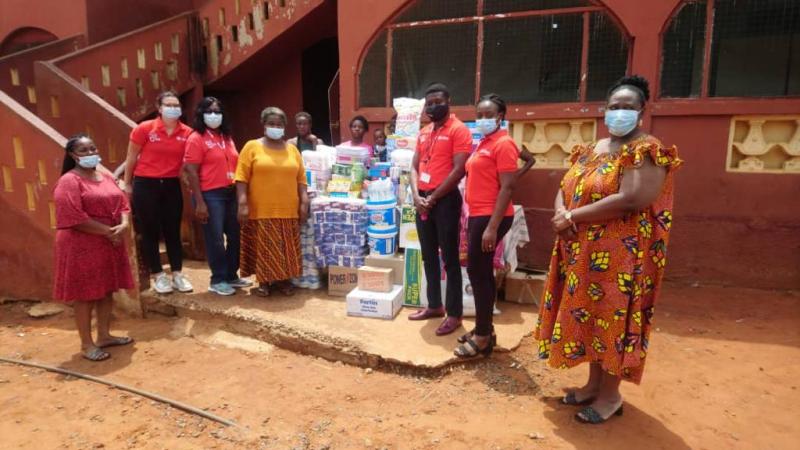 2021, February 26
On the 26th February, 2021, CFAO donated a number of items to the MAHLEF Foundation, a facility located in the shanty district of Tema New Town. These items included six (6) cartons of diapers, baby wipes, bundles of toilet roll, washing soap, detergents, disinfectants, sanitizers, boxes of face masks, various food items and assorted children's stationery.
At a short donation ceremony held at the foundation, the matron of the school, Rev. Mrs. Happy Crentsil was very happy and thankful for the gesture by CFAO. The Communications Manager for CFAO Ghana, Mr. Dennis Gawuga also prayed that the good Lord continues to strengthen the management of the foundation and promise that CFAO will continue to do its best to support not just this foundation, but many others doing such a great job in caring for the unprivileged in the society.
The MAHLEF Foundation houses teenage mothers, pre-adolescents with no place to stay and young orphaned children. MAHLEF organizes skills training for these teenage children with the hope of equipping them with a valuable skill to be able to make a living. Additionally, the facility teaches the children to a point where they can be re-integrated into regular schooling and has recently successfully sent about 50 children to school.
The donation from CFAO was a collective effort on the part of all customers and staff of CFAO due to the donation box initiative started in 2020. CFAO placed donation boxes in all branches to encourage customers to help raise money for this good cause. In turn, CFAO promised to match every cedi put into the donation box and double the total amount to be donated.
The MD for CFAO Ghana, Mr. Paulo Fernandes added, "I am so proud to be a part of this caring CFAO team. We are committed to helping society with such initiative however small to make the world a better place, community by community".
Back to the list